Michael's mouth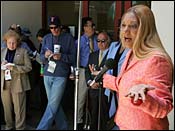 Everyone who is speaking for Jacko, please holds your arms out wide.

(Raymone, you can put your arms down.)
What a Shakespearean mess. Michael Jackson fired his spokeswoman, Raymone Bain. Sure, she doesn't carry the same firepower as the
Revs. Al Sharpton and Jesse Jackson
. But publicly firing her might not have been a great move. It fuels public notion that MJ and his camp are in disarray.
I don't know that I buy the theory that the lawyers had her canned to maintain distance and respect for the gag order. It smacks of the kind of chaos one would create as a diversion, so reporters will have something else to talk about besides Jackson's guilt or innocence.
Reminds me of an old legal saying: "When the law is on your side, pound the law. When the facts are on your side, pound the facts. If neither is on your side... pound your fist."